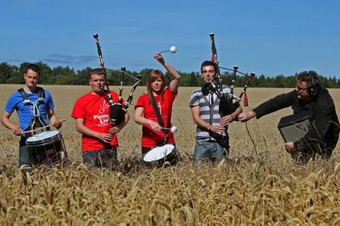 Jim has delivered masterclasses in composition of music for film and record production. He has been guest lecturer to Universities and colleges and has mentored a number of prominent young musicians and composers.
His relaxed approach and broad experience make him a great catalyst for peer to peer exchange and creativity.
With a particular interest in intercultural collaboration and exploration, Jim works on larger scale youth and community projects.
Please see New Blood - A fanfare for youth as an example of Jim's education/mentoring work. This page includes a video of the final performance of a 'New Blood' by the National Youth Pipe Band of Scotland and the National Youth Brass Band of Scotland with Royal Dhol Force.
Jim has also tutored high profile pupils, including Evelyn Glennie, for bodhran lessons, and advised U2 drummer, Larry Mullen on how to play locust bean pods!