Theatre
Jim has composed scores for theatrical productions to critical acclaim.
Most recently, 'Cargo', a multi-ethnic, large scale, open air performance on the theme of migration, premiered at the Edinburgh Mela 2010 and went on to enjoy critical acclaim at the Edinburgh Festival Fringe.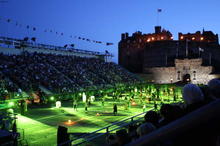 In 2009, 'Aisling's Children', performed by the specially created True North Orchestra and presented as part of 'The Gathering', was one of the major events of Scotland's year of 'Homecoming'. Its 9,000 sell-out audience filled the esplanade of Edinburgh Castle.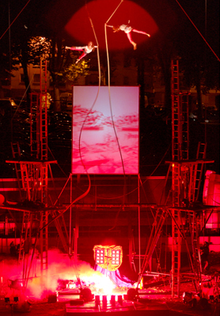 Jim has also composed the music for Boilerhouse on 'Sister Sister' (2003) and 'The Bridge' (2004). The latter holds the single audience record for a Scottish company when 18,000 people watched this large-scale outdoor aerial spectacular with chorus, cranes, live and recorded film performed in Angers, France! It subsequently toured more widely in France and the UK.
Jim also scored 'Into the Dark' for Visible Fictions Theatre Company (2004). This touring young peoples' horror show was described in 'The Stage' as 'an edge-of-the-seat scream-fest of horror'.
Listen to Jim's music while you browse the site.
---