True North Orchestra
The True North Orchestra (TNO) is a new Scottish orchestra consisting of musicians specially chosen for their affinity to, and interest in, the Scottish traditional idiom as well as for their excellent musicianship.
The makeup of the orchestra is similar to a standard chamber orchestra, with the addition of three sets of lowland pipes and concertina (doubling on Highland pipes and whistle) replacing the woodwind section, and a clarsach. The idea behind it was to create an orchestra that could be more rooted in Scottish traditional music. The further addition of Jazz and contemporary musicians throughout means that the orchestra can be more flexible, tackling a much broader repertoire that reflects developments in 20th century music.
---
Children of Alba with Kathleen McInness and the True North Orchestra. Composed by Jim Sutherland, words by Aonghas Macneacail
---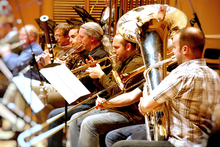 This is a truly integrated orchestra – classically trained string players sit side by side with folk fiddlers. Jazz brass and percussion players work side by side with orchestral and contemporary counterparts. The idea is to encourage the kind of musical cross-fertilization that makes the True North Orchestra utterly unique. Sutherland chose maverick cross genre violinist Greg Lawson as conductor and enlisted his help in the selection of the musicians from a broad cross section of Scottish musical genres.
Director, Jim Sutherland initially created the TNO to perform his score for 'The Gathering', Edinburgh Castle 2009. Other highlights include Celtic Connections Opening Gala, Glasgow 2010 and collaborations with Kathleen McIness, Grammy-nominated Maura O'Connell, Galician piping superstar Carlos Nunez.
The TNO draws on a rich talent pool of the finest musicians from all over Scotland, including prominent members of the BBC Scottish Symphony Orchestra, (BBC SSO) Scottish Chamber Orchestra (SCO), Scottish National Jazz Orchestra (SNJO), and the orchestra of Scottish Ballet, combined with top musicians from the traditional music world.