La Banda Europa
This extraordinary orchestra is made up of 35 virtuoso musicians who play ethnic instruments indigenous to their own European country of origin. La Banda Europa is a potent symbol of how people from different backgrounds and cultures can come together in common purpose, united by music.
---
The Border Crossing performed by La Banda Europa
Composed by Jim Sutherland
---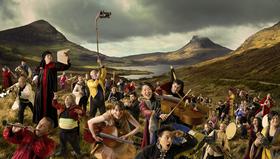 La Banda Europa comprises hurdy gurdies from France and Hungary, nyckelharpas from Sweden, Armenian duduks, Serbian brass instruments, Turkish drums, the bagpipes of six nations and much more.
This unique ensemble performs specially composed music that both celebrates the diversity of our heritage and serves as a fanfare for a dynamic, modern Europe.
Highlights to date have included collaborations with The Vienna Boys' Choir and Lieux Publics as well as commissions from Newcastle Gateshead Initiative and the world renowned Celtic Connections.