La Banda Europa site specific work
Alongside concert performances, La Banda Europa also creates site specific events. Performance ideas are generated, based on research and interpretation of the cultural environment and site's unique characteristics.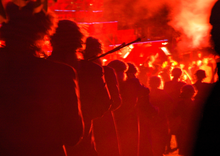 In collaboration with Lieux Public in Marseille, a full day performance was created around the theme of 'Travel'. With musicians living as far apart as Sweden and Southern Spain, La Banda Europa is used to travelling in order to come together!
The band divided into duos and small groups to put on informal performances on trains en route to Marseille.
Arriving in the city, larger groups were formed according to region of origin, each putting on colourful performances in and around Gare St Charles, the central railway station.
A procession then formed, through the station and out into the heart of the city, where the full band staged an open air concert for an audience of 3,000 people.
Later, to round off the event, this audience was invited to join La Banda Europa at the rear of the station, for an informal night club style performance under the stars.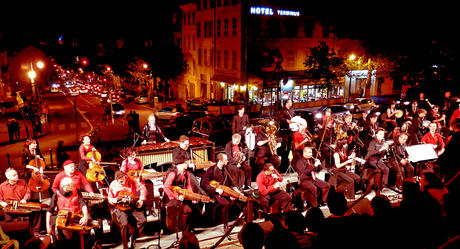 'Moving beyond the folk traditions, Jim Sutherland emancipates his musical resources from the specific of time and place to embrace a musical heritage of European dimension. In an age when the quest for modernity can be identified with a form of servitude, drawing on resources from the past opens fresh perspectives.'
Mouvemont (French Art Magazine)