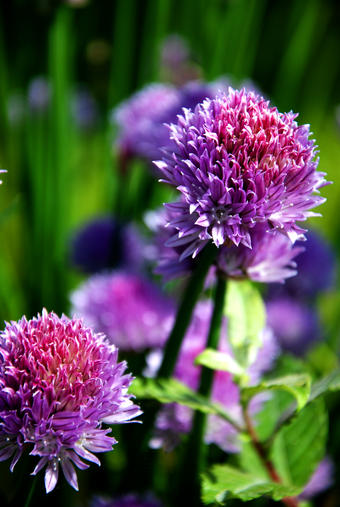 Gentle start to the day today with this chilled out piece. I think I'll spend some time in the garden with my camera today.....not very rock and roll I know but I do enjoy taking photos.
The May weather has been fantastic so far and the garden is well ahead of expectations. We have masses of chives and their flower heads are lovely to see at this time of year. they're good to eat too! I like to add them to salads when they are fresh like this. They have a lovely flavour and they really brighten up the look of a salad.
At this time of year I love new potatoes with fresh herbs from the garden. Yesterday I steamed some Jersey Royals to preserve their flavour and while they were cooking I finely chopped equal quantities of Spearmint, parsley and chives. I drained the tatties when they were just tender and added the herbs with a little virgin olive oil and some salt leaving them to sit for ten minutes while I prepared and gently sautéed some salmon steaks with tarragon, fennel and capers. A wee glass of Alsace Riesling to wash it down. What a treat!
---
Mackintosh 1
Written and produced by Jim Sutherland
---
Hear more of Jim's music here where it is organised into themed playlists. Or check out some more of Jim's tunes of the day.