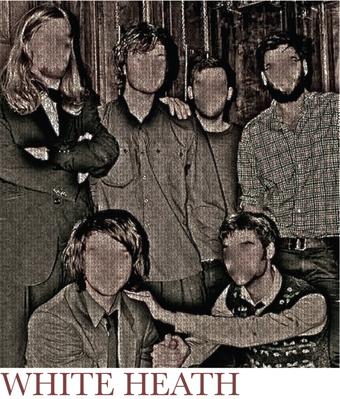 With elections yesterday in the UK it feels as though I'm a day late with this track by Edinburgh band White Heath (not your average indie band).
results are still not in yet but it looks as though it might have been a big day for Scotland! The White Heath album, although already on itunes is officially to be released at the end of May with a Glasgow launch on June the 4th.
Sean from 'White Heath' and I went along to a blogging seminar last night which was organised by the excellent 'Born to be Wide'. The guest panel included Scott Hutchison (Frightened Rabbit),Lloyd Meredith Peenko, Mike Gourlay (veteran PR guy, Matthew Young Song By Toad and (sorry I didn't get his name) from The Pop Cop. The evening was lead by 'Born to be Wide' organiser Olaf Furniss. The evening was very well attended by mainly bands and band representatives hoping to gain a perspective on the world of blogging and perhaps gain insight in what seems to be the way forward for the up and coming as well as the rich and famous. I learned a lot at this rather an excellent.
The world of the music blog is growing and many new bands are achieving international recognition nd dev eloping a fan-base through the blogosphere which is made up of blogs and driven by their interconnections. It could be argued (and often is) that the whole internet is the Blogoshere and that we are all bloggers.I hadn't really thought of myself as a blogger but I suppose that's what this very personal page on my web site is. I post a piece of music every day and write about it or something else that is occupying me. So far I've managed to only post music that I have either produced or written and today's piece is no exception...Now I'm off to find out more about Music Aggregators. These are sites that collate lists of the thousands of music blogs that either post music or write reviews.
Aggregators such as The Hype Machine and Elbo.ws track MP3 blog posts and display the most recently updated posts on its front page.
This was my first 'Born to be Wide'. It won't be my last. Thanks guys for a very interesting evening!
---
Election Day
Written and performed by White Heath
Produced by Jim Sutherland
---
Hear more of Jim's music here where it is organised into themed playlists. Or check out some more of Jim's tunes of the day.